In Sherwood Park since 1984
Established in 1984, Gem Gallerie Jewelers is the longest standing, independent jewelry store in Sherwood Park, Alberta. Its owner, Jacqueline, cherishes the opportunity to help people find that perfect piece for life's special moments.
Jacqueline, a dual certified Registered Master Valuer and GIA Graduate, was 1 of only 40 with the designation across Canada upon graduating in 2004. Jacqueline prides herself by offering personalized care to each and every client that walks in. When you visit Gem Gallerie, you feel like family.
"People have different tastes when it comes to jewelry," says Jacqueline. "Our aim is to help them choose pieces that reflect their personality and are suitable to the occasion – whether it's a birthday, anniversary or it's just 'me' day," she says with a smile.
"We see younger customers, for example, who are quite happy to find unique pieces that really speak to them," says Jacqueline. "We carry a range of lines at various price points so there really is something for everyone."
When you stop in to see Jacqueline, be sure to say hello to her latest staff addition, a husky named Safire. "She's our D.O.G. – Director of Greetings."
Jacqueline says she's grateful to Karen for the smooth transition and the guidance she has provided. "We intend to maintain the high-quality standards and customer service excellence that people have come to know."
Look for new products coming soon.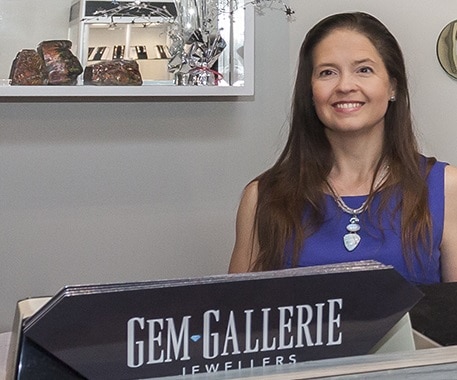 Many times a client will bring in their old gold and we can either buy gold or make a new piece with it. Existing gems can be used and added. There's nothing prettier than a new white gold ring laced with diamonds, rubies, sapphires or emeralds and any combination imaginable with hundreds of stone types to choose from. Imagine making a family ring or pendant with all of the children's birthstones for mom or grandma or even dad. Imagination is the beginning of every jewelry inquiry so leave the creation to us.
Contact us today & start your custom jewelry project